News
Madam First President meets with the President of the Chamber of Accounts of Cameroon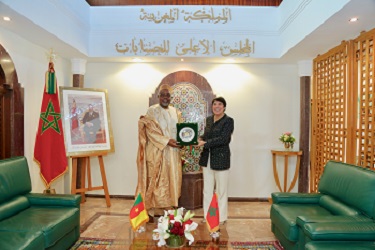 Madam the First President of the Court of Accounts, Zineb EL ADAOUI, received on Friday, January 20, 2023, Mr. Yap Abdou, President of the Chamber of Accounts of Cameroon, as part of a working visit he is making in Morocco during this period.
The two parties first of all welcomed the depth of the relations between the two institutions, which testify to the historical ties uniting the Kingdom of Morocco and the Republic of Cameroon, while seeking to deepen cooperation between them.
On this occasion, Mrs. Zineb EL ADAOUI presented the main missions and attributions devolved to the Court of Auditors, under the 2011 Constitution, and their exercise in view of the new strategic orientations of the Financial Jurisdictions. Madam the First President also emphasized the global and integrated vision characterizing the control exercised by the Court of Auditors, ranging from the examination of regularity and the control of performance, while opening bridges with the skills in matters of budgetary and financial discipline and the referral, if necessary, of the administrative authorities concerned or the presidency of the general prosecutor's office, as well as towards the mandatory declaration of assets, which crowns the process, by allowing the control of the declarations on the basis of the risks noted during control missions.
For his part, Mr. Yap Abdou explained the specificities of public finance control in Cameroon, shared between the Audit Bench under the Cameroonian Supreme Court and the Supreme State Audit attached to the Presidency of the Republic, while emphasizing the interest shown by his institution in Moroccan experience and expertise in the field of public finance control, and the wish to be accompanied by the Court of Auditors in terms of strengthening control activities.
At the end of this meeting, the two parties agreed to develop cooperation and partnership mechanisms, and to strengthen bilateral cooperation in the field of supreme control of public finances.