News
Signature of a memorandum of understanding between the Court of Accounts and its homolgue in the Portuguese Republic
The First President of the Court of Accounts, Zineb EL ADAOUI, and the President of the Court of Accounts of the Portuguese Republic, Jose Tavares, signed on Tuesday, February 14, 2023, a memorandum of understanding on the strengthening of partnership and cooperation between the two institutions.
Under this agreement, the two parties intend to promote the exchange of experience and expertise in areas related to the audit, digital transformation and big data, as well as strengthening consultations and exchanges of views on issues related to jurisdictional remit both bilaterally and regionally and internationally.
In her speech on this occasion, the First President said that this agreement is a sustainable framework for exchanging knowledge and best practices to adopt an integrated control approach that ensures better complementarity between the different types of control both jurisdictional and non-jurisdictional, as well as the development of professional capacity and auditing approaches and accountability, especially in aspects related to digital transformation and processing of claims, for the benefit of citizens at the level of both countries.
For his part, Mr. Jose Tavares wished to strengthen cooperation between the two institutions, highlighting the many similarities between the two systems and he called, in this sense, to develop cooperation in several areas, including mainly the financial accountability of public managers and the certification of state accounts.
The two parties also agreed to make every effort to achieve effectively and sustainably the objectives of this memorandum of understanding in the service of the Supreme Audit of Public Finances in both countries, and in particular the improvement of the performance of public service.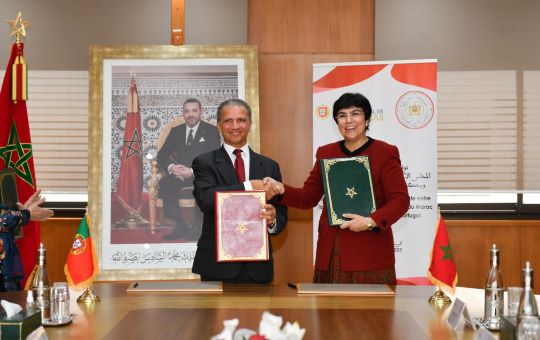 Downloadable files: