News
Working visit of a delegation from the Audit and Inspection Board of the Republic of Korea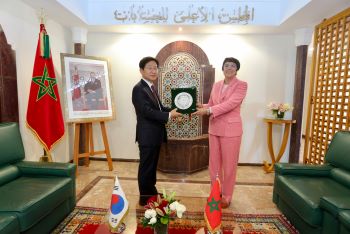 Mrs. Zineb EL ADAOUI, First President of the Court of Accounts, helds talks with a high-level delegation of the Audit and Inspection Board of the Republic of Korea, led by Mr. Lim Chan Wu, member of the Higher Audit and Inspection Commission, as part of its meetings with official bodies of the Kingdom of Morocco. Important issues were discussed, in particular digital transformation, artificial intelligence and disaster and crisis management.
During this meeting, both parties expressed their willingness to frame their cooperation and exchange of expertise in areas of common interest in order to align with best practices in public financial control at the international level.
At the same time, the Korean delegation took part in working sessions with officials and magistrates at the Court. These meetings focused on several aspects including the evaluation of the effectiveness of the mechanisms and arrangements put in place by the government to manage risks, anticipate and prevent natural disasters, as well as the audit of the impact of the pandemic Covid 19.