News
Working visit of the Administrative Control Authority in Libya to the Court of Accounts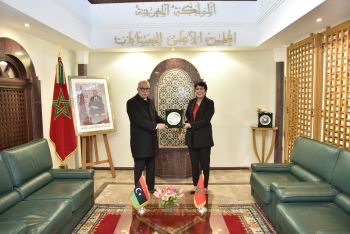 Mrs. Zineb El Adaoui received, on Tuesday January 10, 2023, Mr. Suleiman Al-Shanti, President of the Administrative Control Authority of Libya and the delegation accompanying him, and this within the framework of its visits with various official authorities of the Kingdom of Morocco.
On this occasion, the two officials exchanged around the experiences of the two institutions concerning their respective fields of intervention. Thus, the First President presented the various jurisdictional and non-jurisdictional attributions entrusted to the Court of Accounts under the Constitution of 2011, including the mission of control and monitoring of the mandatory declaration of assets conducted by the court to moralize public life and anchor the principles of accountability, transparency and protection of public funds She also emphasized the role of complementarity between institutions and the development of coordination mechanisms between the various stakeholders in the fight against financial fraud.
For his part, Mr. Suleiman Al-Shanti reviewed the attributions of the Administrative Control Authority of Libya and its role in the improvement of public management and the fight against fraud, expressing his willingness to develop cooperation between the two institutions in areas of common interest and to benefit from the Moroccan judicial expertise.