News
Madam the First President meets with the President of the Court of Auditors of the Islamic Republic of Mauritania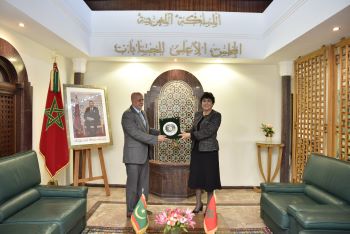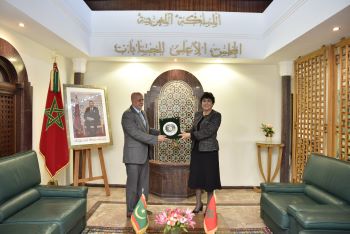 Mrs. Zineb EL ADAOUI, First President of the Court of Accounts met, on Thursday 12 January 2023, with Mr. Hamid Ahmed Taleb, President of the Court of Accounts of the Islamic Republic of Mauritania, who is on a working visit accompanied by a high level delegation.
During this meeting, both parties praised the quality of the links between the Court of Accounts and its Mauritanian counterpart, which reflect the distinct historical relations between the two countries and highlight the common will of both parties to establish mechanisms of cooperation and exchange of experiences in various fields related to public finance management.
On the occasion of this meeting, the First President gave explanations on the strategic directions and the reform of the Court of Accounts on its structuring and institutional governance, as well as the activation of proactive work to accompany and improve the performance of public programs and projects, indicating in this respect the role of the integrated control which aims at a better integration of the various controls exercised by the financial jurisdictions, bridges are established between the judgment of the accounts and the other controls exercised by the Court (the budgetary and financial discipline, the control of the management, the compulsory declaration), and if necessary with the exercise of the disciplinary and penal proceedings.
The First President also explained the role of the Court in improving public performance by providing applicable recommendations and monitoring their implementation via the digital platform designed for this purpose, as well as by monitoring the implementation of the State's structural projects, mainly concerning results-based management and improving the quality of public services rendered to citizens and economic actors.
For his part, Mr. Hamid Ahmed Talib gave an overview of the attributions of the Court of Accounts of the Islamic Republic of Mauritania, stressing his willingness to develop cooperation between the two institutions and to take advantage of the Moroccan experience in the field of training, capacity building, training of trainers, the realization of annual reports and the dematerialization of public accounts. In this context, the First President invited him to participate in the training sessions organized by the court, especially those related to the certification of state accounts or external auditing, especially since the court has accumulated experience in this field as external auditor of the International Organization of the Francophonie and the African Union.
At the end of these talks, it was agreed to sign a Memorandum of Understanding between the Court and its Mauritanian counterpart, which provides for enhanced cooperation and exchange of experiences, and to organize joint activities in all areas of supreme auditing at the level of both countries.