News
Participation of the Court of Accounts in the 66th extraordinary meeting of the Executive Council of the Arab Organization of Supreme Audit Institutions (ARABOSAI)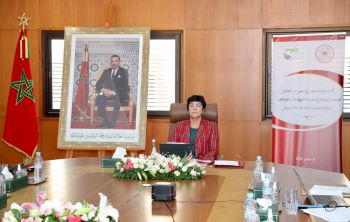 Mrs. Zineb EL ADAOUI, First President, participated remotely, at the head of a delegation of the Court of Accounts in the 66th meeting of the Executive Council of ARABOSAI, and this on Wednesday, December 21, 2022.
This meeting was devoted to the presentation and adoption of the report of the General Secretariat of the Organization related to the participation in the 24th meeting of the Presidents of the Supreme Audit Institutions (INCOSAI), held in Brazil last November.
The reports of the commissions of the organization were also examined, including the commission of control of sustainable development chaired by the Court of Accounts, in addition to the approval of the provisional budget for the year 2023 and the discussion of the professional evaluation report of the organization for the period 2016-2018.